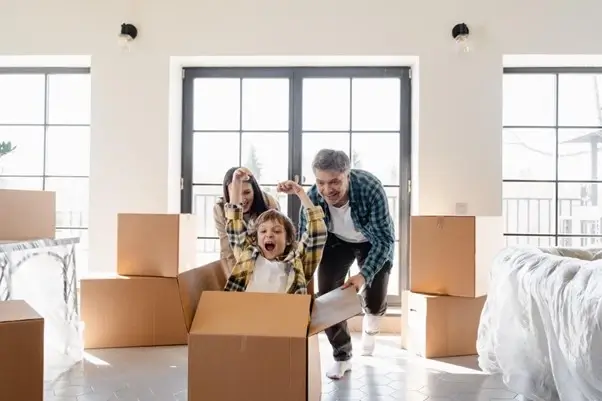 Moving to a new home can be a stressful experience for anyone, but it can be particularly challenging when you have children to consider. Managing the logistics of buying and selling a home while also supporting your children through the transition requires careful planning and communication. In this article from Mortgages By Noone, we'll explore some helpful tips for navigating the home buying and selling process with kids in tow.
New House Tour with Children
Involving your children in the home-buying process can make the transition to a new home less stressful. Taking them on a tour of the new home and neighborhood before the move can help them become familiar with the area and get excited about their new surroundings. This can help them feel more comfortable and secure during the transition.
Communicate with Your Kids
It's essential to communicate with your children about why you're moving and what to expect during the transition. Explain the reasons behind the move in age-appropriate terms and be prepared to answer any questions they may have. Keeping your children informed and involved in the process can help them feel more comfortable and secure.
Builder Incentives and Warranties
Purchasing a new construction home that offers builder incentives and warranties can be a smart financial decision. These incentives can help offset the costs of moving and provide peace of mind knowing that your investment is protected by a warranty. Before making a final decision on a new home, it's important to consider these incentives and make sure they align with your needs and budget.
Use a Home Maintenance App
When you're moving into a new home, using the Frontdoor app can make all the difference. This home maintenance app provides access to service professionals like plumbers, electricians, and handymen, who can quickly address any issues that arise during the move. With the Frontdoor app, you can have peace of mind knowing that your new home is in good hands.
Energy-Efficient Homes
Energy-efficient homes are not only environmentally friendly, but they can also save families money on utilities in the long run. Features such as energy-efficient appliances, windows, and insulation can help keep utility costs low and lower your carbon footprint. For families with children, these savings can make a significant difference in their budget and contribute to a more sustainable future.
Use Free or Low-Cost Packing Materials
Packing up your belongings for a move can be expensive, but there are ways to cut costs. Using free or low-cost packing materials like old newspapers to wrap fragile items can help you save on the cost of packing supplies. Not only is this an eco-friendly option, but it's also an easy way to reduce your moving expenses.
Ask Friends and Family to Help
If you're looking to save money on your move, consider asking friends and family to help instead of hiring professional movers. Enlisting their help with packing, loading, and unloading boxes can make the process more manageable and cost-effective. While it may take longer to complete the move, the cost savings can be significant.
Be Patient and Understanding with Your Children
Moving to a new home can be overwhelming for children, so it's essential to be patient and understanding during the transition. Keep an open line of communication and encourage your children to share their thoughts and feelings about the move. Remind them that it's okay to feel sad or scared and that you're there to support them throughout the process.
Moving to a new home with children requires careful planning, communication, and patience. By following these helpful tips, you can ease the transition for your family and make the home buying and selling process a little less stressful. Remember, the key is to involve your children in the process, communicate openly and honestly with them, and be prepared for any challenges that may arise along the way.
Need help finding the right mortgage? Let Mortgages By Noone help you find the right one for your situation. Get in touch by calling 612-558-1522.